Welcome to National Cancer Institute Sri Lanka
The National Cancer Institute (NCI) is the leading hospital under the Ministry of Health dedicated to the diagnosis and follow-up treatment of cancer patients. The NCI offers both the diagnostic facilities necessary for the identification of all types of cancer, and specialised care in surgery, chemotherapy and radiotherapy. A team of expert Consultants manage the hospital services alongside medical doctors, nurses, pharmacists, medical physicists, laboratory technicians and minor workers. Anyone can access the services, free off charge. In addition to delivering quality care services the NCI is the major training centre for medical undergraduates and postgraduates of the Postgraduate Institute of Medicine (PGIM).
Watch the message delivered by our healthcare professionals about the institution, its facilities, staff and services.
Dr Aruna Jayasekara
Director, National Cancer Institute, Maharagama
Dr Lalith Poddalgoda
Deputy-director, National Cancer Institute, Maharagama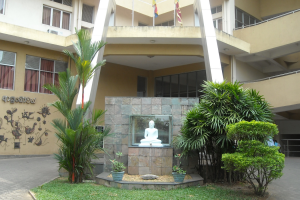 Call our hotline for more information. We are ready to help you.
Hotline :+ 94 112 850 252